LIFE-System:
bioresonance excellence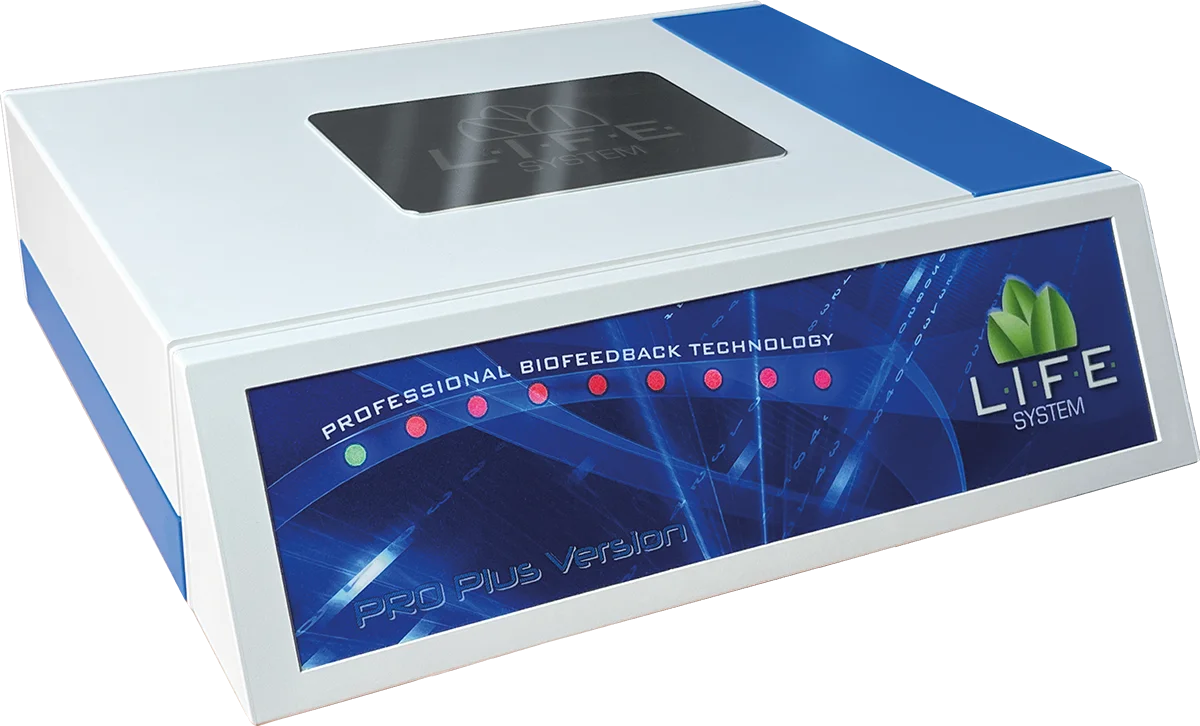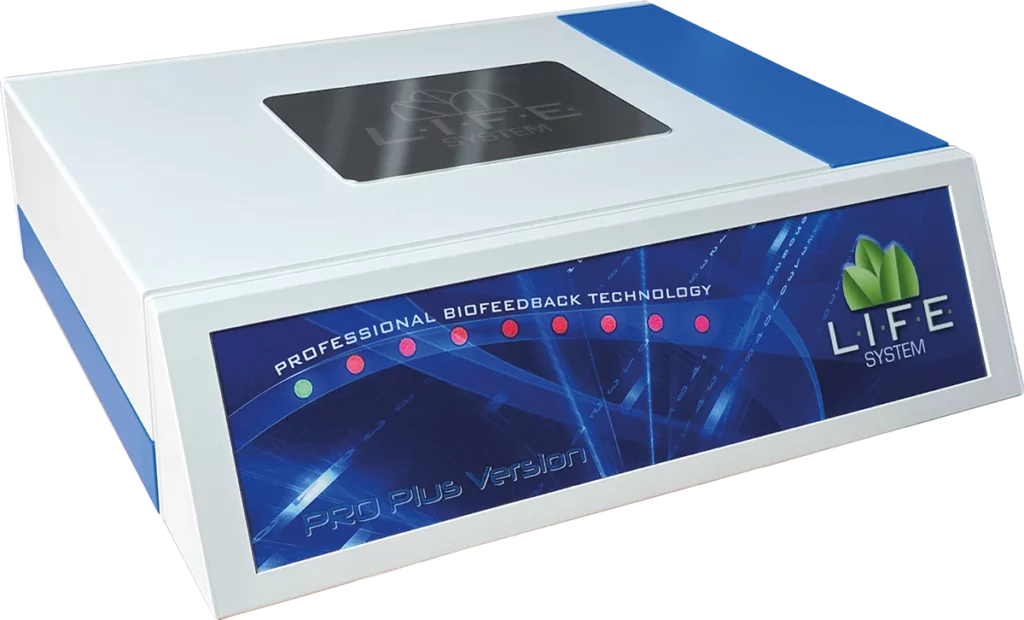 LIFE-System performs a biofeedback test by analyzing over 8,000 bio-fingerprint parameters.
It provides a comprehensive test result that can detect even the smallest factors that can disturb the body's natural balance.
Under no circumstances are the methods suggested contradictory to a current drug treatment and do not rule out the advice of your doctor. Only your doctor can start or change your treatment.
Why switch to bioresonance with LIFE-System?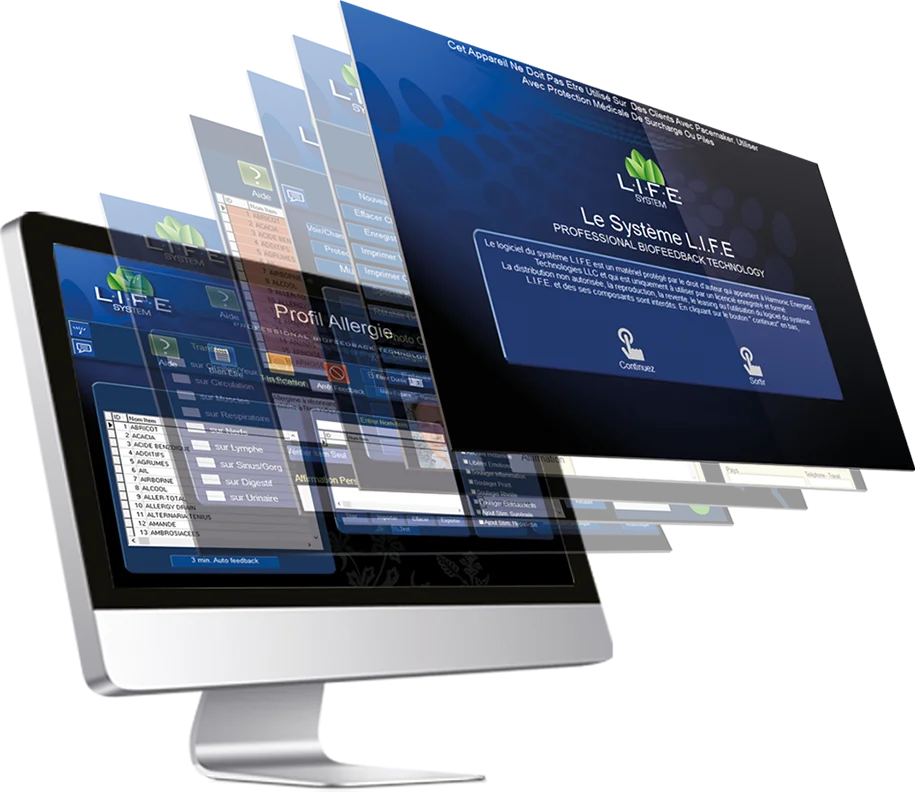 Explore the body with LIFE-System programs
The LIFE-System is used to detect the root causes of imbalance and to improve a person's physical and mental state.
It helps the body fight chronic fatigue, psychosomatic problems, allergies, acute injuries, emotional disorders, as well as many other imbalances among the 8000 parameters analyzed.
Cellular re-information with LIFE-System
The LIFE-System is a biofeedback device that enables an in-depth exchange of information between body and mind.
It identifies and records all potential stressors and helps to immediately rebalance the cells by stimulating the natural self-healing mechanisms.

36 stimulation and regeneration programs
These 36 programs explore the human being on an emotional, physical and energetic level. It is a remarkable tool. By analyzing imbalances, the LIFE-System helps to identify the origin of imbalances, rebalance dysfunctions and prevent future problems.
Discover the
LIFE-System

demonstration
Any imbalance in the body field can be caused by pathogens, environmental factors, stresses experienced, consequences of past trauma, etc. Through a series of tests on the various spheres of the human being, the LIFE-System detects and repairs all these imbalances.
LIFE-System, the essential tool for rebalancing dysfunctions:
Respiratory

Emotional

Functional

Sleep
Muscular

Digestive

Sexual

Hormonal
More than just a bioresonance the LIFE-System is an ecosystem powered by the "Lifeurs" community. In this way, a real support and sharing group is essential for learning, understanding and using this bioresonance device. bioresonance .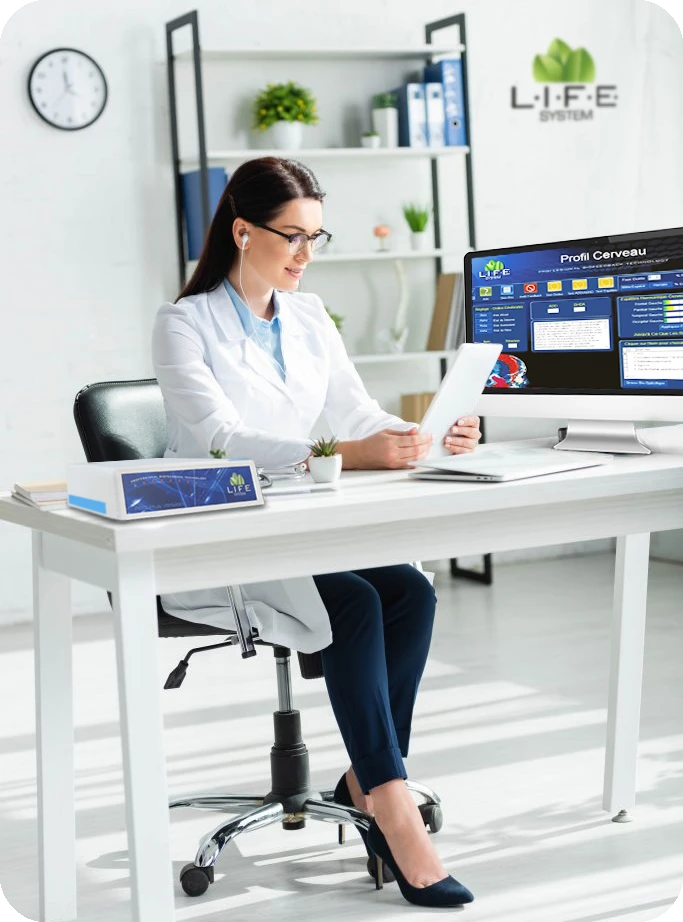 Compatible with Windows 10 and 11

5-point electrically conductive biofeedback test harness for head and limbs

Self-test function for program and harness to ensure quality performance

Available in 8 languages: English, French, Spanish, German, Dutch, Korean, Italian and simplified Chinese.

Exclusive biofeedback capabilities for light and music

Intuitive graphical interface with numerous navigation modules

Includes user manual and integrated digital version

Aluminum carrying case with sturdy, lightweight wheels (approved for airline hand luggage)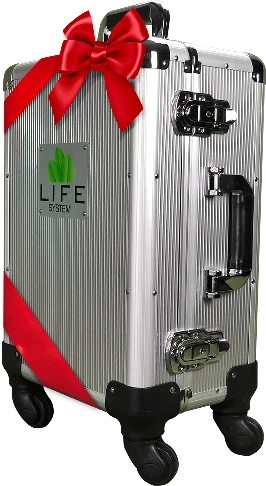 Frequently asked questions :
1
What is the LIFE-System?
It is a bioresonance and biofeedback device registered with the FDA as a stress reduction wellness device.
2
What are the benefits of LIFE-System?
The LIFE-System interacts with the body's energy field using subtle frequencies that reharmonize the body's natural resonances. It is a quantum communication tool that shows the stress level of the body's electromagnetic field and then sends harmonics to reduce the analyzed stresses and finally regulates the body's energetic field. It is essentially an energy rebalancing software.
3
Can we feel our own frequencies?
Most people do not feel the frequencies during the scanning or attunement processes. However, this can happen with people who are very sensitive to magnetic vibrations, such as natural healers who are tuned in to energy healing bandwidths. In this case, these people can feel very slight waves of energetic movement in their body.
The origins of the LIFE-System
American designer and homeopath Chris Keser one day had the intuition that it would be possible to interact with human beings in a different way. In particular, by testing and developing revolutionary therapies. With the advent of computers in the 1980s, Chris Keser 's attention was further awakened, convinced that the computer was the ideal tool to give reality to his intuition.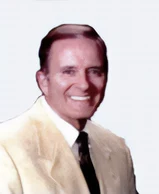 He then decided to create his own quantum system. It incorporates his long-held vision and the features he holds dear. Chris Keser is inspired by the Biofeedback concepts of QXCI or Quantum, which evolve into Bill Nelson's SCIO /INDIGO/EDUCTOR.
Chris Keser has surrounded himself with researchers and engineers for the design and realization of this system.
Together, they conduct experiments and investigations into existing research intoelectromagnetism andshape waves. They incorporate the work of the world's leading researchers in this field: Professors Raymond Rife, Hulda Clark and Ibrahim Karim.
They also create their own databases of frequencies and holographic information. The whole thing is then compiled into a new technology, comprising a set of programs that form a coherent technological whole.

And so, in 2002, the LIFE-System (Living Information Forms Energy) was born. The simple, complete, easy-to-use and incredibly effective bioresonance scanner. It remains the most efficient and the only one to have obtained C2A Medical certification. What's more, this scanner is positioned as an essential tool for prevention and overall understanding of the human body. Its strong point: the emotional part.
Today, there are more than 50,000 LIFE-Systems in over 60 countries worldwide.
1980

Intuition by Chris Keser

It would be possible to interact with human beings in a different way.

2002

Creation of the LIFE-System

After years of research and development, the scanner is ready.

2023

LIFE-System is everywhere

More than 50,000 LIFE-Systems distributed in over 60 countries worldwide.
« Ensemble réinventons notre futur, ondulons avec les fréquences vers plus d'équilibre, de douceur et de respect des forces du vivant. »